Happy Rising! Good Day! Every Sunrise is a blessing so what better way to start the day than with a supercharged superfood cup of heaven? Lets face it, so many of us are really dedicated to the coffee morning culture. Coffee in the morning, coffee for a pick me up, coffee date , working at the coffee shop, meetings at a coffee shop……you get it. Maybe it is me but I am ready for upgrades!!! This recipe is great especially if you are a "coffee for breakfast" type of person( or just super busy with a -who knows when -lunchtime). My supercharged coffee recipe is basically a full meal of nutrients and will give you energy and REAL fuel. Bulletproof coffee has been increasing in popularity ( if you are unfamiliar it is basically coffee, grassfed butter ,MCT oil , protein powder and cinnamon) but I have upgraded even further!! What is even more exciting is this recipe can be made without coffee if you like the flavor but really just do not need the caffeine. YES!! so lets try it already! Click the names of the products to read about all the amazing benefits each has.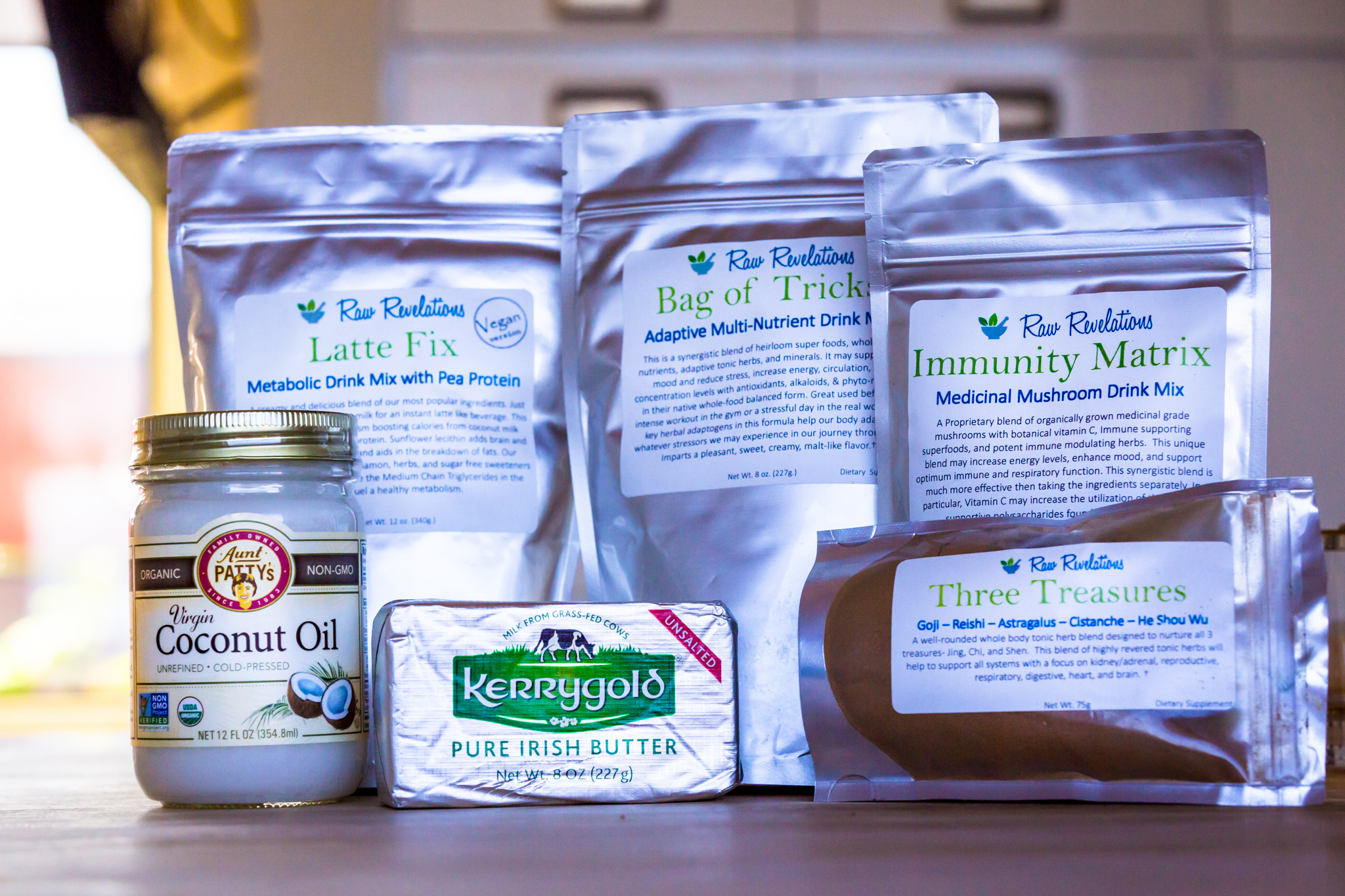 `~~~Superfood Coffee Recipe~~~`
16 oz of fresh pressed coffee
1tbsp Coconut Oil
( or mct oil)
1tbsp grassfed butter
(or Organic Ghee
)
2 tbsp Latte fix
2tbsp protein powder
1tbsp bag of tricks
1tsp immunity matrix
1tsp three treasures
I love colostrum so I add 1tbsp!!
Vitamix blend this magic combo and smile all day long …woohooo!!
(Since I love this so much I make my superfood premixed into sweet coffee "bombs" . Then I just pop the bomb into the coffee in the morning and get to my zen morning drink meditation )
SO …butter in the coffee???
Some of you are still a bit weirded out by butter in the coffee. If you are used to black coffee, you have an excuse. But all of you creamer loving, half and half addicted coffee drinkers ….do you know what creamer is even made of???? haha. Grassfed butter of ghee is a much healthier and nutritious than whatever oil and chemical cocktail is in creamer, and half and half is a half way point to grassfed butter …right?!?!
You really can not knock it until you try it and who wants to pay for something that tastes good but has NEGATIVE amount of nutrients and benefits to your body AND mind?!?! WELL NOT ME IN 2018 that is for absolutely sure.
I would love to hear from you so add me on instagram and send me a message 🙂 @chachamamasworld
How do you zen your morning drink?!